Mike Brown
VP, Client Services
Mike's understanding of each shipper as an individual and their unique and changing business requirements has played a crucial role for many customers while outsourcing professional transportation related services.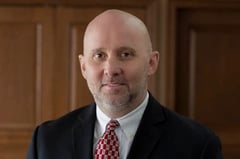 For well over two decades he has helped companies, large and small, take control and improve their business practices while reducing internal expenses. As a result of Mike's various Management, Quality Assurance and Sales roles, he is skilled in the art of bridging the gap between shippers' needs and available solutions.
At TranzAct Technologies, he helps customers meet their strategic objectives through freight auditing and payment solutions, information processing solutions, freight payment software and logistics consulting.
Mike's success in helping shippers build blueprints for practice improvements is driven by his philosophy that good customer relations are the lifeblood of any business. His commitment to customer satisfaction and the transportation marketplace at large delivers a tradition of excellence and reinforces TranzAct's position at the forefront of the industries we serve.