Your opportunity to improve your supply chain involves everything from managing your transportation spend to having the right inventory system for your warehouse to employing TMS technology. Our Supply Chain Edge partners can help you replace reacting to the market with a proactive approach--more important ever in these COVID-19 times.
Start with a TranzAct Rapid Assessment to better understand your transportation spend, and finish with a road map to sustained return on investment.
We can guide you to a place where transportation is seen not as a cost, but an opportunity for sustained savings in your supply chain.
Our supply chain consultants have expertise in:
Supply Chain Strategy
Supply Chain Risk Management
TMS Systems
Warehouse and Distribution Optimization
LTL Sourcing & Truckload Sourcing
Overall Transportation Savings
In this rapidly changing world, inefficient supply chains can have a disproportionate impact on the profitability of your business. If your competitors are proactively addressing these transportation issues while your company is forced to react to events, you can be at a significant competitive disadvantage.
Take advantage of our transportation industry-leading network, tools, and expertise to obtain the best pricing, change processes to drive those prices throughout the organization, and build in supply chain best practices to deliver sustained ROI.


Case Studies
SCE Helps a Supplier Boost Customer Responsiveness in a Time-Sensitive Industry
SCE's client often fell short of what its customers needed, and company executives knew they had to act to change the organization's current trajectory. With SCE's help, this client now has the operational prowess to be much more responsive to its customers' needs—and is better positioned to compete with the bigger players in its market.

Supply Chain Edge Helps a Laboratory Services Company Rapidly Boost the Value of its Supply Chain
A growing provider of pathology and diagnostic laboratory services found its logistics expenses had become unsustainable. SCE helped the company consolidate its transportation providers and reduce the costs of its distribution processes. The company now is saving approximately $170,000 each month on transportation and logistics while delivering excellent customer service.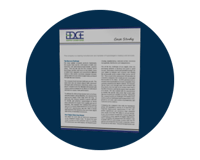 SCE Helps a Leading Cosmetics Company Use Outsourcing and S&OP to Achieve Cost Savings and Competitive Advantage
A leading cosmetics manufacturer sought to overcome supply chain issues including long lead times, unpredictable demand, and shrinking margins. Following an in-depth assessment, Supply Chain Edge identified approximately $20 million in potential annual savings.