Dana Regan
VP, Business Development
Dana joined TranzAct in 2005, managing the Capacity & Service Solutions division and as a national account executive before moving into her current business development role. She works with both large and small companies to evaluate current supply chain environments and identify specific business practice improvements to drive bottom line savings. Her thorough understanding of the transportation marketplace and daily interaction with shippers and carriers alike lends to the development and facilitation of customer relation and support initiatives throughout the organization.
Dana has been instrumental in des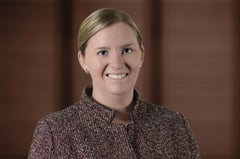 igning comprehensive solutions to enhance supply chains while maximizing the benefits of a freight payment application, helping numerous companies reduce transportation costs, manage cash flows, and leverage supply chain practices. This includes the set up of call centers for decentralized organizations, implementation of highly detailed general ledger coding processes, improved visibility of transaction detail, and increased vendor compliance to control inbound costs, which have achieved double digit percentage point savings for customers. Her unique immersion in the industry brings a modern perspective, providing shippers with an advantage in managing their supply chain in today's environment.

The graduate of Villanova University is Certified in Transportation and Logistics (CTL) and is actively involved in several professional, civic and philanthropic organizations. She is an active member of the Council of Supply Chain Management Professionals (CSCMP), previously serving on the Board of Directors and chair of the CSCMP Young Professionals Committee, which she co-founded. Dana is a member of the American Society of Transportation and Logistics, the Traffic Club of Chicago, and the Executive's Club of Chicago New Leaders' Initiative. In addition to her professional involvement, she serves on the Clearbrook Associate Board of Directors and is a member of the Junior League of Chicago and the Executive Women's Golf Association (EWGA). She is actively engaged with the Young Presidents' Organization/World Presidents' Organization (YPO/WPO) NextGen Network and Forums, serving as chair of the 20 Something Seminar in 2011 and 2012 and co-chair for the Legacy Experience Annual Conference in 2008. Prior to joining TranzAct, Dana worked for a national truckload brokerage firm in Chicago.