Jean Regan
President, CEO & Chairman of the Board
Jean Regan directs the operational and financial activities of TranzAct, including the Information Technology, Customer Service, Operations, and Human Resources departments. As such, she leads our strategic initiatives, oversees new product development, and handles the financial aspects of the corporation.
Jean has serve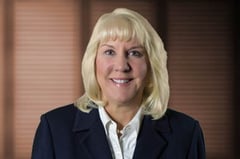 d on numerous Boards of Directors and Industry Advisory Committees including the Northwestern University Transportation Center Business Advisory Committee, the University of Illinois College of Business Dean's Business Council, and the board of a major U.S. insurance company.
She is also a member of Vistage, the National Association of Corporate Directors (NACD), the National Association of Female Executives, and the National Association of Professional Women, which recognized her as the 2012/13 VIP Woman of the Year. She is a member of the AICPA, the Illinois CPA Society and is licensed by the State of Illinois as a Certified Public Accountant. Jean is also a founding Member of and served on the Board of Directors for L3.
Prior to joining TranzAct, Jean was the Executive Vice President for a privately held lumber and hardware operation, overseeing operations, finances, and accounting. For the nine years prior, she was a Senior Manager at the big four public accounting firm KPMG.
She has a B.S. in Accounting with high honors from the University of Illinois at Champaign-Urbana and a Masters of Management Degree with a Minor in Finance from Northwestern University.
Her blog, Lessons in Life and Logistics features her thoughts on how economic factors impact our industry as well as reflections on family and women's leadership.