Ken McCullough
Director, Information Technology
As the Director of Information Technology, Ken manages departmental operations, develops tracking and evaluation programs monitor goals, and directs and manages the activities of the software programmers within the IT department. He also participates in the development, implementation, and maintenance of policies, objectives, and planning. In addition, he coordinates the developmental activities of the proprietary software used by TranzAct Technologies to provide logistics management services to clients.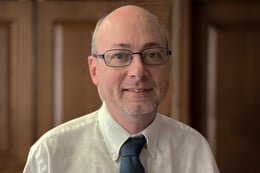 A graduate of Purdue University, Ken has worked for TranzAct for more than 20 years. Previously, Ken worked for Schneider Logistics as a Senior Programmer Analyst. He maintains current knowledge of relevant state-of-the-art technology, equipment, and systems to provide the best possible information technology to meet clients' needs.
Ken is skillful at examining and re-engineering operations and procedures, formulating policy, and developing and implementing new strategies. He has the ability to coordinate and integrate computer systems development, enhancement, and modifications from an overall information services perspective.